Sheet Pan Dinners Are A Lifesaver On Busy Fall Evenings
For many of us, fall means the return of routines, cooler temperatures and busy weeknights. It's also the time of year when ingredients like savory squash and hearty root vegetables are in abundance. Combine that with an autumn chill in the air, and suddenly, turning on the oven no longer seems like a bad decision for the first time in months.
Here are 20 of my favorite sheet pan dinners that take advantage of autumn's flavors and are easy enough for the hectic back-to-school season.
This sheet pan dinner with bratwurst and roasted vegetables has amazing flavor and is an incredibly easy meal that gets dinner on the table in no time.
This chicken, broccoli and sweet potato sheet pan dinner will quickly become a new fall favorite!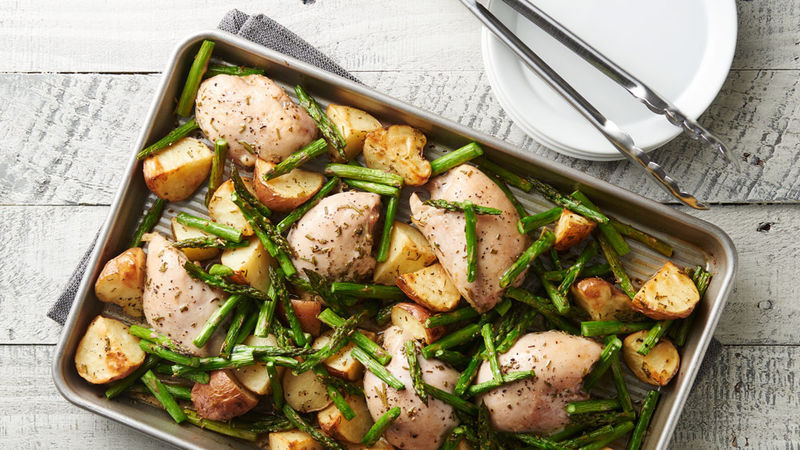 Say hello to your new favorite sheet pan chicken dinner! This all-in-one recipe features rosemary chicken, red potatoes and asparagus for a family meal that comes together in a snap.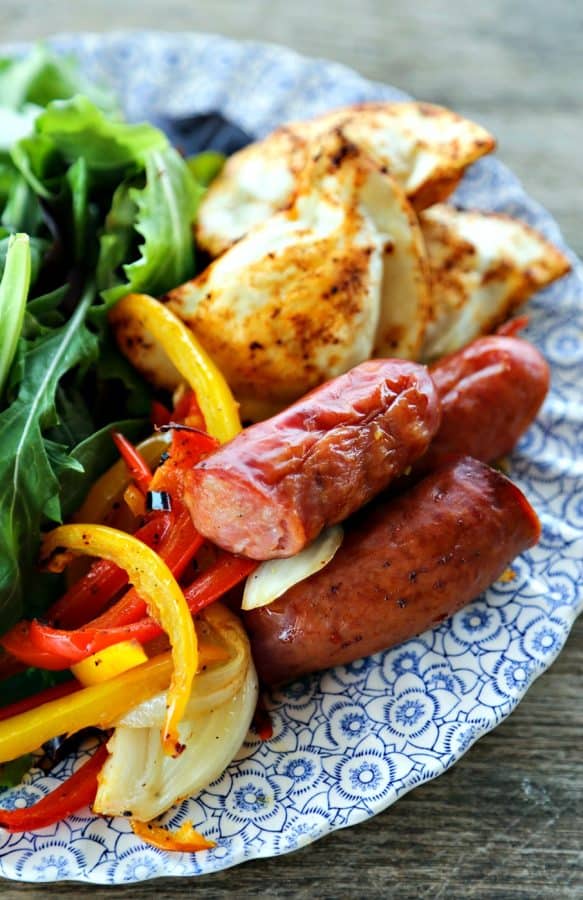 This kielbasa and pierogies sheet pan meal is one of our family's favorite go-to meals in the winter and fall months.
This savory sheet pan meal combines ranch pork chops and potatoes and is delightfully packed full of flavor.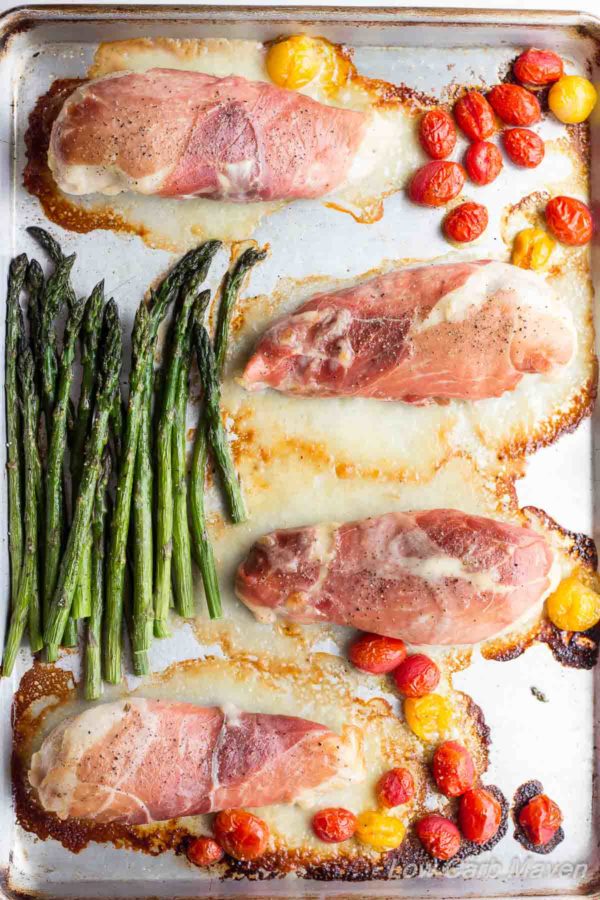 This prosciutto wrapped sheet pan chicken recipe promises a tender, moist, flavorful chicken dinner with minimal time or effort. Bonus–it's also low carb.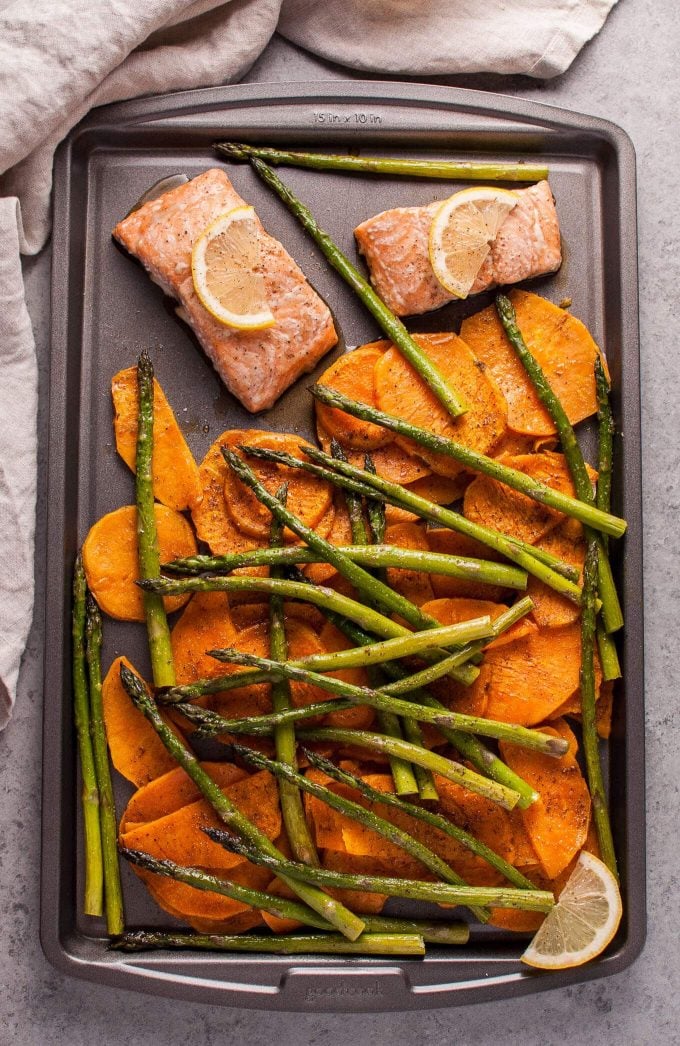 This maple salmon sheet pan dinner with sweet potatoes and asparagus is an easy, fast, delicious and comforting fall meal!
An easy, delicious and healthy dinner for any night of the week. The citrus married with sweet honey makes this a king of the sheet pan dinners!
Pork loin and root vegetables make dinnertime just so very easy! I toss a salad with balsamic vinegar and feta cheese for the perfect complimentary side.

This quick and flavorful dinner is a family favorite–and will easily become a part of your dinner rotation.
This meal is simple, quick, healthy, so easy, and even more delicious. If you like middle eastern and Moroccan flavors, you will love this chicken recipe.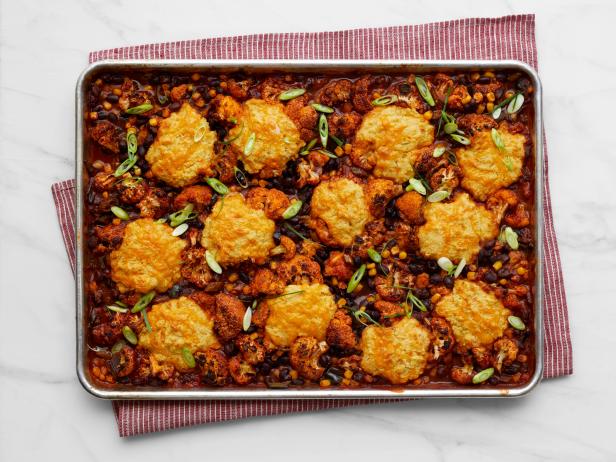 Simple cornbread biscuits bake atop a sheet-pan take on vegetarian chili, meaning that you can multitask while dinner practically makes itself in the oven.
How can one possibly go wrong with shrimp, lemon, garlic AND butter? Plus an easy cleanup–this recipe by Damn Delicious is the winner of sheet pan dinners.
There are few cold weather dinner staples than good-old steak and potatoes. Whether you're cooking for date night or feeding your family, this stand-by recipe is a keeper.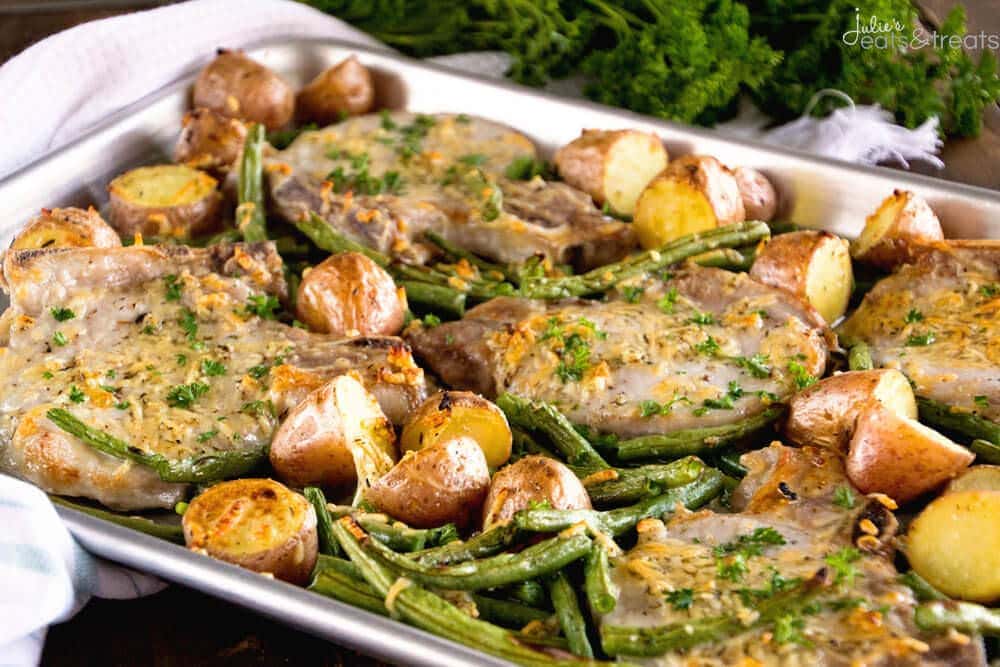 Juicy Parmesan pork chops, roasted potatoes and green beans quickly served up on one pan! This dinner is so easy and delicious, even the picky eaters in the family will love it.
Can this savory dish be anymore autumn themed? And trust me, it's as yummy as it sounds. I look forward to the cooler weather so I can add this dinner back into my repertoire.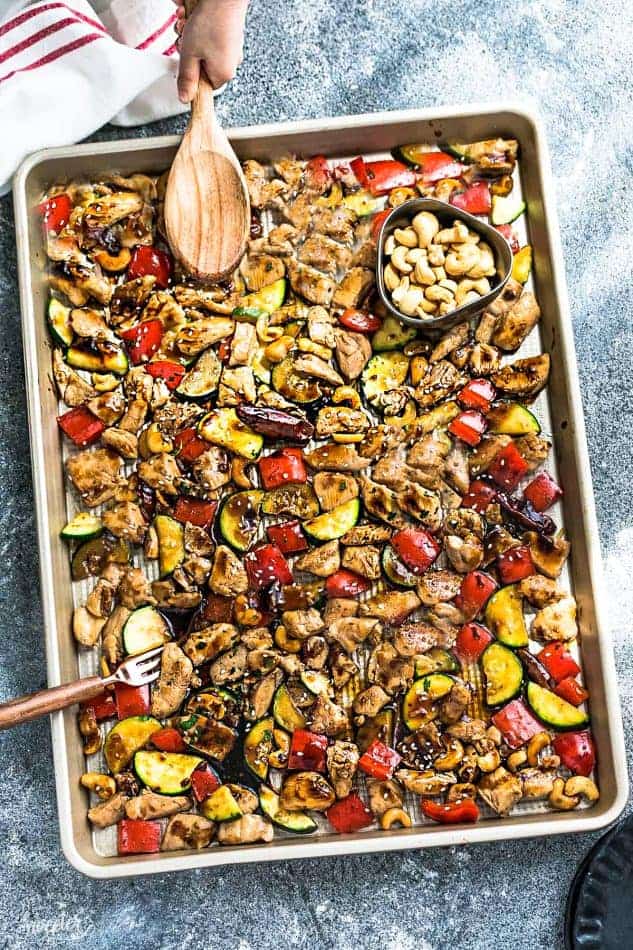 This easy one pan meal has all the flavors of the popular Chinese restaurant takeout dish. Best of all, Life Made Sweeter makes it simple to customize with paleo friendly options.
Who doesn't love The Pioneer Woman? From her blog, to her cookbooks and her show on The Food Network, she is an inspiration to so many moms and bloggers! Rhee Drummond a busy mom too and understands the need for easy and quick family meals. And this delicious recipe does not disappoint.
I love this recipe from Kitchn because it has five very simple ingredients and it cooks up fast. It's perfect for those nights that you need to feed everyone before you disperse to soccer, baseball and gymnastics.
Most families can agree on pizza for dinner. And the great thing about this recipe is that you can easily change up the toppings or use different toppings on each half of the pizza so everyone is happy.
Looking for a pulled a pork recipe? Try this recipe made with root beer!